Dorsett Shoals Road Runners
Dorsett Shoals Road Runners
Email – Katie.Whitney@douglas.k12.ga.us
Phone # 770-651-3718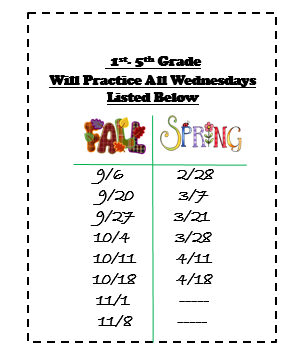 Road Runners Registration is Now Closed!
All Membership and T-shirt money is Due by 9/7/17
Race Schedule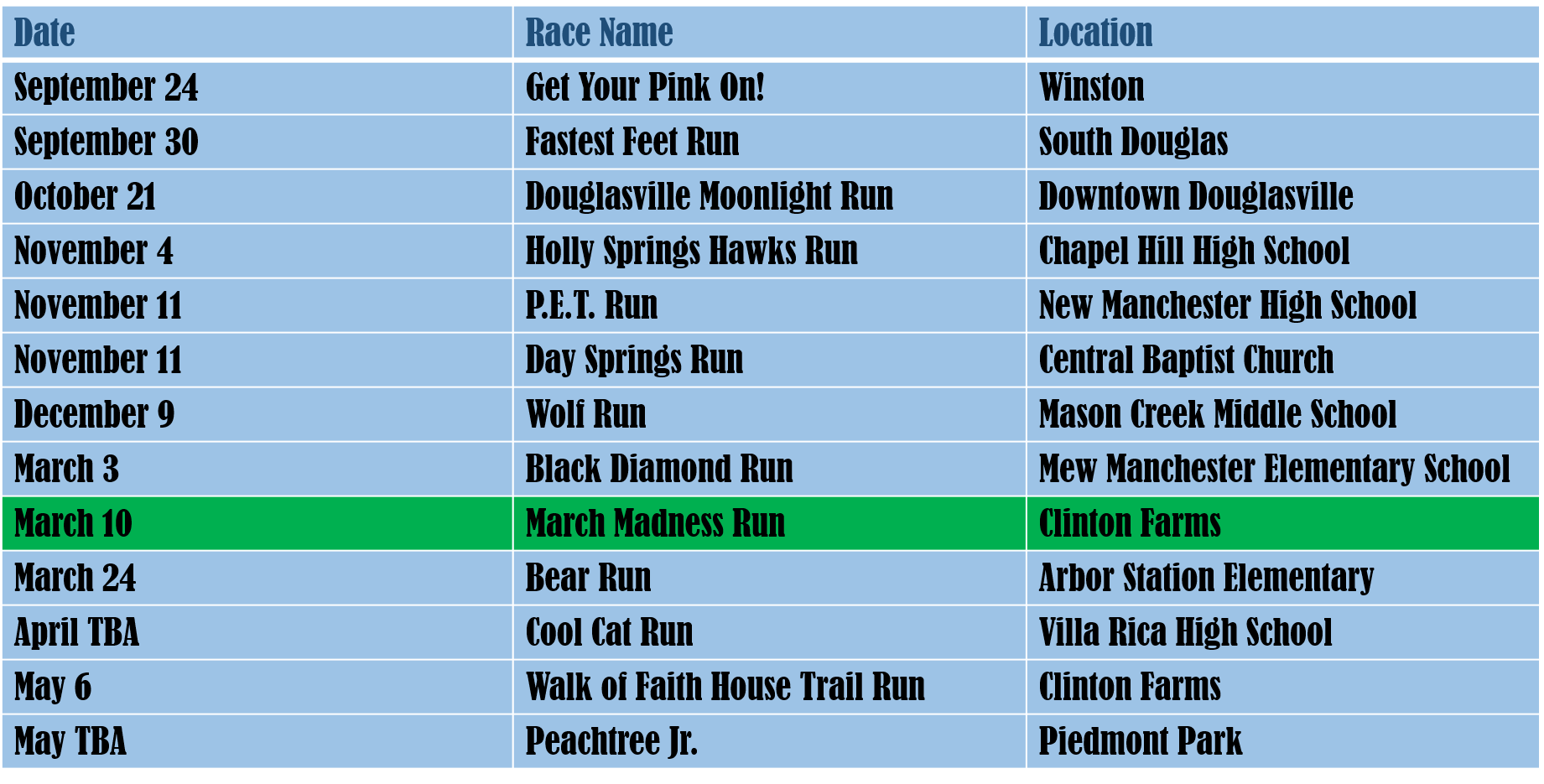 Dorsett Shoals Road Runners
1st Practice for All Students 1st- 5th- September 6th, 2017
PURPOSE:
The purpose of Road Runners is to provide children an opportunity to enhance their running abilities, and it is open to all children in grades 1st-5th. This program gives children a chance to meet other students in the school and the community. Road Runners is a self esteem builder, which offers the children a feeling of success when they finish a race and a sense of belonging by being part of a team.
PRACTICE: We want all children to wear their Road Runner shirts and black shorts at every practice
Schedules:
Practices will be held on Wednesday from 2:45-3:45pm RAIN or SHINE. If it rains, we will do some activities in the gym, and if the sun is shining we will be running outside. There will be several safety stations around the course where parents will be in order to keep an eye on all of the runners. We encourage parents; who can, to come to practice and exercise with their child. We also do station work and need parents to help give encouragement to all runners.
ATTENDANCE:
Only 3 unaccused absences will be allowed for the year. These will be referred to as attendance "U"s. All students will be checked in and out at every practice.
· If a child misses practice, a NOTE or email must be sent the following day to Coach Whitney. Your child will receive a "U" if we do not receive a note or an e-mail. I will look at attendance sheets to follow up on any child who misses practice.
· Practice is over at 3:45pm. Students must be picked-up from practice by 4:00pm. If your child is not picked-up by this time on a consistent basis, he/she will be removed from the team.
AFTER SCHOOL PROGRAM
· Dorsett Shoals does have an After School Program (ASP). If you feel you cannot pick up your child by this time, please sign them up for ASP so we can avoid any problems that may arise. Register the family for $10. The cost per child to stay is $8.00. Information for ASP is available in the main office.
Road Runner Responsibilities:
Only 3 "U"s will be allowed for the year. This refers to behavioral and academic problems. We understand that students may have difficult times; therefore, we have a time of probation in an effort to help the student 'get back on track'.
Parents and students must remember that being a Road Runner is both a privilege and an honor. It is important that the children maintain their daily responsibilities in the classroom; this includes academics as well as conduct.
Road Runners Responsibilities include the following:
* Grades from report cards and progress reports will be reported to Coach Whitney
* Students with unacceptable grades for their ability will be put on probation
* Probation will be for a 1 week period
* Come to Physical Education Class Prepared
* Wearing tennis shoes
* Running minimum # of laps required for their grade level
* Follow school wide behavior plan (Panther Pride)
* NO OFFICE VISITS!!!
* If an office visit does happen, the Coaches will be notified by the office and we will decide if they receive an "U"
MEMBERSHIP:
The Road Runner membership fee is $10.00 for everyone. The membership fee covers expenses such as Gatorade, snacks, cups, letters and bars. If you have more than one child doing Road Runners, it will be $8.00 additional per child.
Shirts:
Road Runner T-shirts will be an additional $10 for those students who need one. Please note: We need all t-shirt order forms and money by Friday, September 8th. If you are doing Road Runners for the first time, you need to purchase a shirt. Road Runners from the past can still use last year's shirt.
* We are now participating with Douglas County as a Road Runners Group. All students in Douglas County who are in a Road Runners Program will have the same T-Shirt design but different colored shirts. This year the T-Shirt will be a dri-fit material and Dorsett Shoals will be Blue Shirt with White writing.
LETTERS & BARS:
First year runners will have the opportunity to earn a letter, and students who already have earned a letter will have the opportunity to earn a bar. Students must do the following in order to receive a letter/bar:
· Maintain academic and behavioral responsibilities
· Attend all practices
· Run in a minimum of 4 races during the 2017-2018 school year.
· The Dorsett Shoals March Madness Fun Run is a required race.
Each race is $10.00, which a race t-shirt it is $20. Information and cost for these races will be sent home with the children. I will e-mail race forms in advance, forms can be found on the school website on the Road Runners page, and there will also be forms in the gym for students who need them. Parents need to provide transportation to and from the races.
We look forward to another great year with our awesome Road Runners!
Thank You,
Coach Whitney, Coach Farnan, Coach Sills, Coach Beasley, Coach York
RECAP OF
WAYS TO BE DISMISSED FROM THE TEAM
· NOT RUNNING IN AT LEAST 4 races for the school year. (2 Fall and 2 Spring)
· PICK UP YOUR CHILD AFTER 4:00PM
· RECEIVE 3 DISCIPLINE MARKS UNDER THE ROAD RUNNER Responsibilities
· IF ON PROBATION FOR GRADES, AND GRADES ARE NOT IMPROVED DURING THE TIME OF PROBATION
· RECEIVING 3 U's
· 3 UNEXCUSED ABSENCES… YOU MUST TURN IN A NOTE OR EMAIL WHY YOUR CHILD WAS ABSENT.